This picture is of cutting grain on the Welker/ Ward farm just southwest of Hazel Dell. That's J. O. Ward on the cutter, or reaper and my mother, Maudaleen Speakman, about 8 or nine years old at the time with him. Kneeling on the ground is George Sigler, another youngster the Wards took to raise (in addition to my grandmother, Flora Mae Wyman). The man standing is a neighbor or hired hand.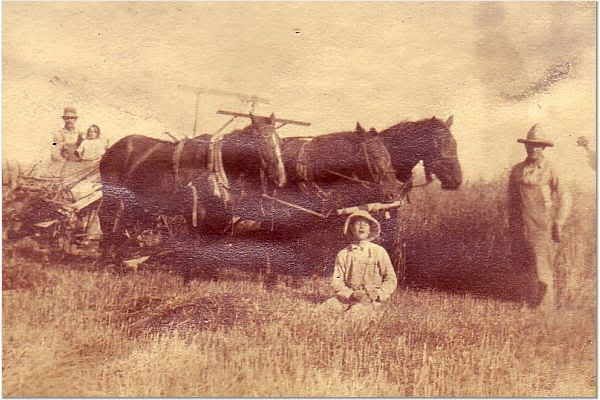 The reaper cut the grain into windrows and the men on the ground "shocked" the wheat into tipi-like groups to allow the grain to dry for several days before processing by the threshing machine. My mother told me that the arrival of the threshing machine with its accompanying steam engine, horse drawn hay wagons and helpers was a big event in the country. The large steam engine, painted shiny black or deep blue with brass trim had a loud steam whistle, a brass bell and a tall stack that emitted a tall plume of steam and smoke and it could be seen and heard miles away. These two big machines with their own crew, the tooting steam whistle, the neighborhood boys running alongside, barking dogs, neighbors and hired hands helping with the harvest and the horse drawn hay wagons all added to the excitement of the harvest event. Everyone was busy when they cut the fences down and pulled these two giant machines onto the Ward's farm. The large group of men, comprised of "Dad" Ward, his two men, neighbors and the contract threshing crew were busy tending to the the grain. The women cooked large quantities of food for the hungry man and, at mealtime, they spread the food out on harvest tables under the shade trees and rang the dinner bell to summon the men to come and get it. Next to the county fair, this was the biggest event of the year.
Emma Welker



The little girl in the flowery hat is young Emma Welker, I'd guess about nine at the time.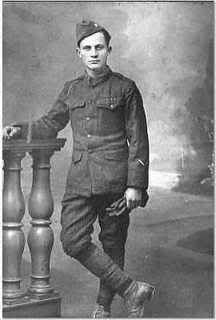 George Sigler


The young man in the army uniform is George Sigler who served in Europe during WW I. I have letters from him to Emma Welker Ward written in Europe.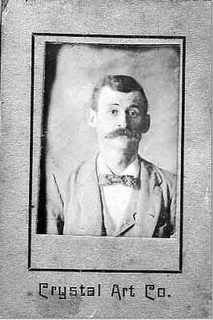 James O Ward
James O. Ward


The trio standing beside the Ford Touring car is George Sigler in uniform, my mother with her doll and James O. Ward.




Matilda and Samuel


Welker
T

he couple is Matilda and Samuel Welker, parents of Emma Welker Ward.