WASHINGTON COUNTY INDIANA ~ BECKS MILL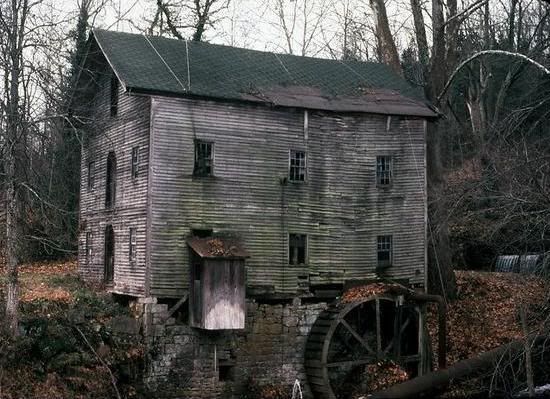 A personal story about my grandparents, Harry & Blanche Whitman Burrell & Becks Mill:
Recently my aunt mailed me a bunch of VHS tapes from the collection of my deceased uncle (her brother). As I made my way thru viewing all of these tapes, I recognized some of the pictures. I had previously done some research on some historic locations in Washington county, but during my research, I had no clue that I had actually found a location that was significant to my grandparents....Becks Mill. This video showed my grandparents, aged 83 & 79 in the video, standing and talking with Becks Mill and it's running waters in the background. The next thing I knew, I was sitting there shocked, listening to their story.
Harry Burrell and Blanche Whitman met around the end of February, beginning of March, 1927. It must have been love at first sight, because within a few weeks, they were married. One week prior to their marriage date, the Saturday before Easter, they met at Beck's Mill and planned their elopement. Over a picnic spread in the lawn near Becks Mill, Harry and Blanche planned their strategy to run away and get married. They were married on 23 April 1927 at the courthouse in Salem, Washington County, Indiana. Blanche was 16 years old and Harry, just shy of 20 years of age. They fibbed on their marriage license, another recently revelation for the family.
Harry and Blanche Burrell were married for almost 63 years when Harry passed away at age 84 in 1990, in Pekin Illinois. Blanche passed away in late 2007 at the age of 97. They were the parents of 5 children, 3 boys & 2 girls. I found it an incredible find for me because when I originally researched Becks Mill, I had no clue of its significance to my grandparents.

Desiree Burrell Rodcay
Meet George Beck
Original text from: http://www.millersofwashingtoncounty.org/becksmill.html
Before Beck's Mill was settled by the Becks, it was the site of the largest Delaware Indian villiage in Washington County. There was about a 15 acre clearing of trees around the spring that the Becks later used for their grain mill. There were a number of Indian Trails in Washington County that lead to Beck's Mill from all directions. Some of the roads in the area are based on those trails because the Indians tended to take the shortest/easiest routes. There was also an Indian grave yard somewhere in the clearing where the Beck's grew their first corn crop in 1808. Once the Indians had left the area, Beck's Mill became a good place for an early settler to build a cabin. The spring and the clearing meant they could grow some corn the first year they settled. On December 25th, 1807, George Beck and his two sons John and George Jr., crossed the Ohio river follwoing the Buffalo Trace into the Indiana Territory looking for a new home. They left the rest of the family in Bear Grass Kentucky, now known as Louisville. On their second day of travel, they left the Buffalo Trace and went north where they found a location to their liking and made a temporary brush shelter under a big elm tree, in now what is now Pierce Township. In January of 1808, the two boys were out hunting in Howard Township, when the brother George found the spring that would later feed Beck's Mill Cave Spring. They also found Organ Spring. They told their father, he inspected it and promptly decided to make Cave Spring their permanent home. In the Spring of 1808, they built a one room cabin there and began making plans for a mill. After the cabin had been made comfortable, old George went to work on building the mill while his sons worked at hunting and trapping. In the fall of 808, old George Beck went to Louisville to get a set of milling stones, trading them for furs his boys had gotten hunting and trapping. Once the mill was started, it ran 24 hours a day with George and the boys taking turns running it. People would travel for hours to get to Beck's Mill and then have to wait for 2 or 3 days to get their turn. Before Becks Mill was started, people had to travel all the way to Louisville Kentucky to get flour or salt. At one time, Beck's Mill was believed and may have been, the most western mill in the Indiana Territory. When Beck's Mill was first built, there were no roads in the Indiana Territory west of it. Beck's Mill was also the home of Beck's Forts. There were two forts built by the Becks and several forts were built in Washington County after September 3rd 1812. That's when the Pigeon Roost Massacre ended 17 women and children's lives. At age 84, a shoulder length white haired man named George Beck Jr, opened the festivities for the first Old Settlers Day celebration in Washington County, it was September 29th, 1875. The celebration continues today as a remembrance of what it was like to be an early pioneer in Washington County. He said that at the age of 15, he walked all the way from North Carolina to Washington County Indiana with a gun over his shoulder. His account of the Beck's Mill story can be read in the Centennial History of Washington County 1916.

Becks Mill, as shown in the pictures,
is located near Salem Indiana.
It was built in the early 1860's
and is about
25 miles NW of the falls.
The grist mill used an overshot
wheel design and water from an
underground stream loacated
behind the mill.





Beck's Mill is a historic gristmill in
Washington Co, Indiana.
It is seven miles SW of Salem. It was built
shortly after John Hunt Morgan
asked for ransom for every Washington County mill
to be spared from burning.

The geography of the mill
is a rocky ravine
surrounded by sycamores and maples. It is at one
of the highest elevations
in Indiana, at 946 feet above sea level.







pictures from the family collection of JRB