Christian Church
224 E. Violet
Potwin, KS 67213
(620 752-3331
(Photo submitted by C. J. Schmidt)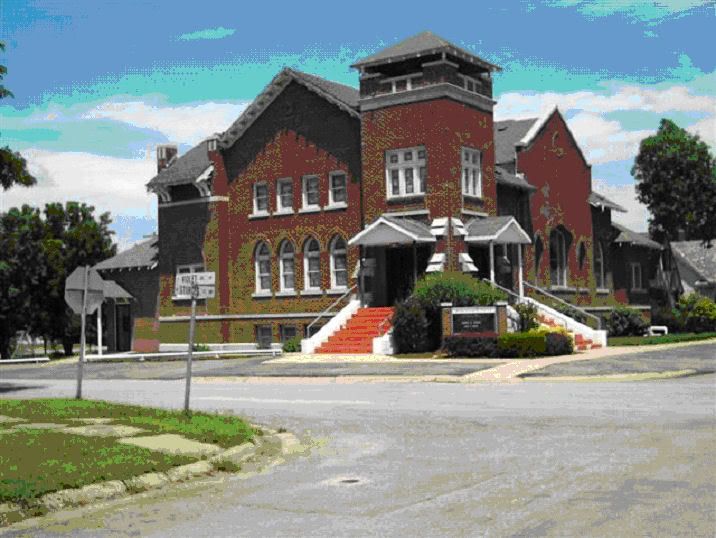 Potwin Christian Church: A History
by Elsie Higdon Smith
1969
GEN 978.188 K21 SMI
not indexed
Transcribed by submitted by John Brown
Page 47 - 49 - Mrs. Margaret Bond was truly a pioneer among pioneers. Her father, Joseph C. Rodman, migrated to the United States from Scotland and her mother, Jane Mann Rodman, came from England. They married and took a homestead in Wisconsin where the city of Milwaukee is now located. Here Margaret Ellen Rodman was born November 22, 1829. Joseph Pitzer was born in Berlin, Germany, September 8, 1818 and came to New York when he was eight and his brother was twelve. The boys stayed with friends in a settlement area until they could be placed. Joseph Pitzer was taken by the Joseph Rodman family to their dairy farm at Milwaukee. Margaret Ellen Rodman married Joseph Pitzer November 6, 1845 and they went to live at Green Mountain Falls, Wisconsin and were living there when their first child, a daughter, Elizabeth Jane, was born. From there, they migrated to Dubuque, Iowa where four more children were born.

The spirit of adventure and promise of good land to the west caused the Pitzer family to make another move. With a team of oxen and a covered wagon which carried the belongings-- the English ironstone dishes, the heavy cast iron pots, pans and spiders, along with the weaving loom on which Margaret wove all of the family clothing until 1862 when calico came on the market, and all of the necessities-- the Pitzer family took land near Cottonwood Falls, in Chase County, Kansas.. Here three additional children were born. Death came to the Pitzers on September 30, 1867 when the father, Joseph Pitzer, left his loved ones.

Margaret Pitzer then bought 80 acres of land just north of the Joseph H. Adams homestead. Here Margaret met another of the experiences of early Kansans--that of the destructive prairie fire.l In 1868, two of her orphaned grandchildren, Frankie and Elsie Wiggins (children of her oldest daughter, Elizabeth Jane) were lost by inhaling smoke in the widespread prairie fire. The Wiggins children were buried in the Adams Cemetery near the grave of Mrs. Joseph H. Adams, who also died in 1868.
Margaret Ellen Pitzer and Joseph H. Adams (who had recorded the first homestead in Plum Grove Township in 1860) were married May 5, 1869 and lived on the Adams homestead in Section 7. Two children were born to them, Amy Luella Adams born January 13, 1871 and died February 6, 1873 and Joseph Arthur Adams born July 25, 1874. Grief came again to Margaret on the death of Joseph H. Adams in 1875. With all the hardships of living on the Adams homestead, Margaret was able and talented enough to meet every situation. She could use the shotgun to provide meat for the family as well as down the hawk that bothered the chickens. She was both able and willing to care for any emergency in the cases of sickness or injury in the area. One day when the Whitewater was at flood stage, she urged her horse to go through the water to the Moses N. Joseph home to assist at the birth (February 9, 1877) of a daughter Sadie, who later married Warren Poffinbarger and became the mother of Howard Poffinbarger.

In 1878, Margaret Adams married March Bond. This wasn't a success but Margaret Bond continued on the homestead. She had lived in the original 30' x 30' log house that was the original house built on the Adams land. This was larger than many early homes as it had a loft. In 1885, when the town of Plum Grove moved, partly to Potwin and partly to Brainerd, the drugstore building was bought and moved to become an addition to the log building. Later Margaret Bond sold the 80 acres north of the original homestead and this helped improve the place with a new two-story house and other buildings.

At the death of her daughter, Salome Estella Kimberlin on February 13, 1898, Margaret Bond, with the aid of her son, Christopher C. (Chris) Pitzer took into her home the infant girl, Irene Estella, who later married Paul Kennedy.

On July 4, 1911, Margaret Bond had tables arranged under the cottonwoods for the regular get-together of her loved ones as she planned for Sundays and holidays. The horseshoes with pegs were in place, the day was ideal for strolls along the Whitewater; much food had been prepared and folks were arriving with well-filled baskets which would be climaxed with home-made ice cream and then the shooting of fireworks.

Margaret Bond asked Irene to walk with her to a nearby couch where she lay down and breathed no more. A great pioneer had gone to be with her Maker.
~~~~~~~~~~~~~~~~~~~~~~~
Transcribed & Submitted by Karen Isaacson Leverich
Whitewater City founded in 1857 by settlers from Douglas Co.
Drought in 1859/60: folk moved back. Great influx in 1870/71.
"Life Lines for Christ" (Descendancies within the church, I think?)
Page 62
1. Francis Leaton and Rachael Paul Hall
2. Alice Hall Brenner
3. Verl Brenner-Harold Brenner-George Brenner
4. Sue Brenner Eldenburg
Jo Brenner Oberst
1. C. S. Brenner
2. Charles Brenner
3. Verl Brenner-Harold Brenner-George Brenner
4. Sue Brenner Eldenburg
Jo Brenner Oberst
Page 65
1. W. Oscar and Lovisa Adams Moore
2. Reuben D. Moore (wife=Edith Taylor?)
3. Ruth Moore Turner
4. David Turner
John Turner Jr.
1. W. Oscar and Lovisa Adams Moore
2. Orin A. Moore
3. Elwood... etc.
Page 69
The family of Francis Leaton Hall came to Murdock Township in 1868 and the family of Rachael Paul came in 1869.
Here Leat Hall, Guy and Rachael Paul grew up as neighbors in the new country. They were married in 1881.
Page 123
Oscar W. Moore married 16 Apr 1872 d. 1921
Lovisa Adams by Isaac Mooney, Minister d. 1953
Page 124
Francis Leaton Hall married 6 Jan 1881 1859-24 Jan 1936
Rachael Paul at El Dorado by L. E. Black, P.J. 1864-14 Apr 1931
Page 129
Charles M. BRenner married 17 Oct 1901 d. 1947
Alice Hall by J. W. Houston, P. J. d. 1930
Page 131
Arthur Moore married in 1904 d. 14 Oct 1969
Nellie Metz d. July 1943
Page 132
Leonard Sexton married 28 Nov 1907 d. 11 Nov 1931
Lula Hall Longton KS, Rev. Watson
Page 132
Reuben D. Moore m. 12 Feb 1908 d. 14 Apr 1963
Edith Leona Taylor Bride's Home, Rev. Homer E. Moore
Page 133
Claude Moore m. 1910
Alice Burch
Page 134
Orin E. Moore m. Mar 5, 1913
Susie M. Keys Keys home, Rev. Homer E. Moore
Page 135
Frank J. Miller m. 2 Jun 1915
Celia Hall Rev. J. H. Higdon
Page 136
Ray I. Moore m. 10 Jan 1917
Vida Maxwell Maxwell home, Rev. J. H. Higdon
Page 138
Leonard Kimberlin m. 10 May 1919 d. 23 Oct 1966
Myrtle Moore El Dorado, V. P. Mooney, P.J.
Page 140
Hurshell Hall m. 10 Jan 1921
Maud Fowler Newton, Rev. W. J. Shull
Page 141
Willard McConeghy m. 1914
Zora Dexter Newton
Page 142
Kenneth McLain m. 1926
Juanita Dexter Newton
Page 143
William Adamson m. 17 June 1929
Viola Dexter Hutchinson
Page 147
Fred Harvey m. 25 Sep 1935
Bernice Abplanalp Newton, Grant Mitchell P.J.
[Nothing to do with me, I went to school with an Abplanalp, so it caught my eye...]
Page 147
Verl Brenner m. 12 Mar 1936 d. 8 Oct 1955
Margaret Grimmett Wichita d. 21 Jan 1948
Page 150
John Turner m. 21 Dec 1940 d. 9 Jun 1969
Ruth Moore Potwin, Rev. L. R. Hobert
Page 154
Verl Brenner m. 21 Jun 1950 d. 8 Oct 1955
Wilma Schroll Colorado Springs, CO
Page 155
Howard Balzer m. 29 Dec 1950
Veda Moore Potwin, Rev. Clyde E. Mosher
Page 159
Robert Eldenburg m. 23 Jun 1963
Sue Brenner Potwin, Rev. Gary Appleton
Page ???
Jack Oberst m. 8 Feb 1964
Jo Brenner Benton, Rev. Roger D. Irvin
Page ???
John Turner, Jr. m. 15 Aug 1964 d. 20 May 1968 (Viet Nam)
Suzanne K. Keisel Corte Madera, CA
Back To Index Page

Copyright © to Kansas Genealogy Trails' Butler County host & all Contributors
All rights reserved