Lyon County, Kansas
PLAYGROUND OPEN!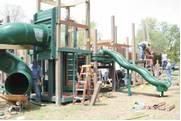 It takes a community to build a playground — and after five days of intense building, hundreds of volunteers reaped the benefits at the grand opening of Peter Pan Park playground.

The new playground is a child's dream. At just past 5 o'clock Sunday evening, it rang with laughter and children calling out to their parents. With the song "Celebrate" playing over a loudspeaker, hundreds of people milled about watching children play on the playground for the first time. Denise Dorcey, volunteer coordinator for the Peter Pan Playground project, said 330 volunteers showed up on Wednesday; 432 on Thursday; 268 on Friday; 387 on Saturday and 161 on Sunday.

Sunday evening, the playground resembled little of the way it looked on Saturday. Saturday morning the playground was buzzing with volunteers who were assembling the equipment. The sounds of power tools and saws rang in the background. Volunteers were painting, cutting and assembling equipment with tools many of them had donated. Each tool was numbered and checked out by a volunteer. The large group worked together like a well-oiled machine, sifting through parts that were organized over a large area. Volunteers worked diligently and quickly in the chilly morning air. They had a goal to meet — to give the kids their playground by Sunday evening.

The concept that ultimately led to the dream of Peter Pan playground was born 16 years ago when Dorcey was covering for Kansas Magazine a similar playground project in Goodland.

"We observed it and thought it was really neat," Dorcey said.
Adam Vogler/Gazette Work continues on the playground at Peter Pan Park Thursday, May 1. Volunteers will be working at the park until Sunday. To volunteer call the sign-up table at 794-6749, Robin Nelson at 342-1600 in the daytime, or Denise Dorcey at 794-1622 evenings. Work begins at 8 a.m. and childcare is provided.

| | |
| --- | --- |
| | Adam Vogler/Gazette Work continues on the playground at Peter Pan Park Thursday, May 1. Volunteers will be working at the park until Sunday. |
Dorcey and her husband, Mike Dorcey, moved to Emporia five years ago. Mike Dorcey was involved in a Leadership Emporia class. Together the two decided that a playground build in Emporia was needed — at Peter Pan Park.

"We started doing presentations and that's how it started," Denise Dorcey said.

The dream became reality when fundraisers were held and $150,000 was raised for the playground. But there were many bumps along the way, Denise Dorcey said.

"The person I have to give credit to is my husband," she said. "He's the one who kept the faith. He really kept it going. He kept working and kept saying this is the right thing to do … it was one of those things where God had a plan."

Once the money was raised and the equipment ordered, it was time to recruit volunteers, Dorcey said. She stepped up as volunteer coordinator. She focused on sub-groups in the community and the word about playground volunteers spread.

"It seemed like word of mouth was the best," Dorcey said.

Dorcey said the project truly brought the community together. She said a year ago on May 1, there was contention in the community with the immigrant march. Sunday, people from all walks of life worked side by side.

Barry Segal, of Leathers and Associates, a designer from Ithaca, New York, who worked on the playground, agreed.

"The community didn't let you down," Segal said. "It's one of the best things people do in their lives. …"

As he watched children playing on the equipment, Mike Dorcey talked about seeing the dream of the playground fulfilled.

"I'm still kind of in a 'Pinch me, I'm not sure this is really happening' mode," he said with a smile.

But it was happening. Analicia Rodriguez, 13, her parents, Juanita and Andrew Rodriguez and her siblings, Andrew, 6, and Joseph, 10, were enjoying the new playground Sunday evening. The family had helped build the playground and was enjoying the finished product.

"It's nice," Analicia's father, Andrew, said. "I've lived in Emporia all my life … I wish this was around 25 years ago."

Analicia said her favorite part of the equipment is the trampoline bridge.

"I plan on coming every day this summer," Analicia said.

Juanita Rodriguez said her favorite part of the playground is the tiles with the kids' handprints on them. The family was able to find two of the three Rodriguez children's handprints.

"I think the tiles are really neat," Rodriguez said. "I think that will be cool for (the kids) to come back in 10 years and see their handprints."
(Emporia Gazette ~ Monday ~ 5 May 2008)

Copyright © 2008 to Kansas Genealogy Trails' Lyon County host & all Contributors
All rights reserved