SCHOOLS
Submitted by Marla (Dalsing) Hathhorn
Tony Dalsing - age 8 - 1907 Class photo (Tony is the little blond boy in the middle of the front row)
The family was living in Coffeyville at the time the photo was taken. If you know what school, or any of the kids in the photo, please contact us.
1945 Maple Grove School Photo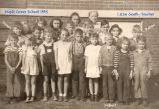 Names of students listed are: Donnie Fox, Delbert Fox & Robert Fox
Some of the other students although can't match to faces: Marvin Etcheson, Barbara Etcheson, Pauline Hughes, Jeanette Moore, Cocoa Kinkaid, Ardith L. Clark & ? Yarbrough.
If you know the face and names of the students, please contact me so I can get them added
Submitted by Kristy Fox

1926 Coffeyville High School Grads
1936 Coffeyville High School Grads
1937 Kane Kan Yearbook - Caney
1937 Coffeyville High School Grads
1938 Coffeyville High School Grads
1939 Coffeyville High School Grads
Copyright © 2010 to Kansas Genealogy Trails' Montgomery County host & all Contributors
All rights reserved