ROZEL, PAWNEE COUNTY, KANSAS
Jennie Elizabeth Barker
Submitted by Dave Ogle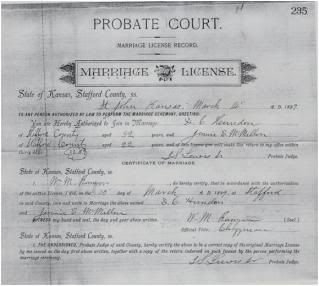 March 15, 1899
Courtesy: Stafford county, Kansas Court Clerk, Tammy R. Alexander
Jennie Elizabeth (Lizzie) Barker c. 1905

From an obituary notice published in the local paper of Stafford, Kansas and it is thought also to have been published in the Macksville Enterprize:
Sudden death of Mrs. D. C. Herndon
The neighbors were greatly shocked Wednesday morning of this week when the sad news was telephoned abroad of the sudden death of Mrs. Herndon. She was apparently well until Tuesday evening about 11 o'clock. About midnight Drs. Reed and Ewing were telephoned, but when they arrived they fo und that she was past medical aid, and about 6 o'clock Wednesday morning she passed from this world of sorrow and cares to a bright and better home over there. Jennie Elizabeth Barker was born in Rush County, Kansas, June 18, 1877 and died at her home near Rozel August 29 , 1906, aged 29 years, 2 months and 11 days. In her nineteenth year she was married to Asbury McMillan. To this union one child was born, a son. March 15, 1897, she was married to Daniel C. Herndon. To this union two daughters were born, who together with their brother and father are left to mourn the loss of a kind and loving wife and an indulgent mother. She also leaves a mother, two sisters, and four brothers. Funeral services were held at the home at 10 o'clock Thursday morning, Rev. J. M. Alexander officiating. After services the remains were taken to Rozel cemetery for burial. Mrs. Herndon had a very quite and kindly disposition, and her many helpful deeds and sympathy for those in need won for her the love and respect of all who knew her, and the immediate community where she lived feels and irreparable. Mr. and Mrs. Herndon have lived in Pawnee County for the last ten or twelve years and have won many friends who came from all parts of the country to show their respects in these last hours of need.

According to her son, Roy, on his Modern Woodsmen of the World application form, stated that Jennie Elizabeth McMillan died of blood poisoning.