PICTURES
Taken from Nellie Laughlin McPherson's photo collection and submitted by her granddaughter La Vella Tomlinson
Photo of a group of young adults about 1910, around the Smokey Township area in Sherman County, Kansas.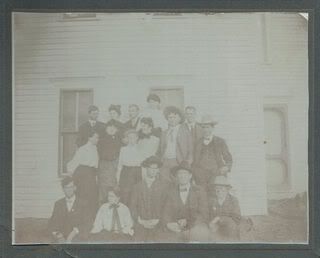 Back row: Earl Mitchell, Lizzie King, Earl Hartzler, Alice Funk, Russell Martin
Middle row: Myrtle Eicher, Elsie Dunlap, Nancy Hartzler, Lizzie Eicher, Oliver Dunlap, Floyd McPherson
Front row: Uriah Eichler, Millie Hartzler, Emery Eicher, Thomas Hartzler, Melvin Hartzler
The first sod Church erected by Mennonite pioneers upon their arrival in Sherman County from Davis County, Iowa. Fred Funk was first Sunday School Superintendent, and drew plot for cemetery at rear of church.