SUMNER COUNTY, KANSAS
SCHOOLS

List of Early Schools & Alternative Names
Pictures of Various Schools in Sumner County
State Normal Training Examination Questions (1914)

DIAMOND SCHOOL
District 138, Osbourne Township
Class of 1909
School may have been located near Mayfield
Pictured - Roland Parker, Mildred Parker, Edna Getter, Vera Beatty, Fay Getter, Mabel Getter, Verna Parker, Beulah Beatty, Alberta Parker (visitor), Jesse Parker, Rosie McKowen (Teacher), Ray Behringer, Johnny Getter (visitor), Lloyd Beatty (visitor)
School Board Members were: S. McKowen, Albert R. Parker and Burt O. Beatty
Picture & data submitted by Tom Johnson

LOAN STAR SCHOOL
Near Mayfield, Kansas
1910 Class Photo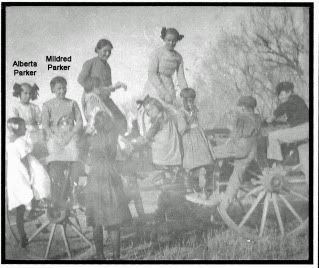 Sitting atop the wagon wheel at far left is Mildred Parker, and just to her left is her younger sister, Alberta Parker, daughters of Albert and Maude Parker.
If you know of any of the other students/teacher in the photo, please email me.
Submitted by Tom Johnson

LONGBRANCH SCHOOL
1911 Class Photo
Mayfield, Sumner County, Kansas
The little girl peeking around, at left center row is Alberta Maude Parker, and the girl just to her right is her sister Mildred Parker. The older girl, back row, right side of teacher, is another sister, Verna Mable Parker and the boy far right, center row with hands in pockets, is a brother Jesse Cylde Parker.
If anyone knows who the others in the photo are, please email me and I'll put you in touch with Tom Johnson who submitted the photo.
LONGBRANCH SCHOOL
Mayfield, Kansas
1912 Photo
The children are standing on a wooden walkeay across a creek or swampy area. If you look closely, the boy on the far left has a pick on his shoulder, and is balancing a small cannon on his knee. The third boy from the left, Jesse Parker, also has a small cannon on the ground in front of him and is holding a long pole, maybe a ramrod for the cannon?
The only children identified are 3rd from left, Jesse Parker, the 6th from the left is Mildred Parker and 3rd from right is Alberta Parker.
If anyone knows what they were doing, or know who anyone else is in the picture, we would love to hear it.
Photos and data submitted by Tom Johnson

Back to Index Page

Copyright © to Kansas Genealogy Trails' Sumner County host & all Contributors
All rights reserved